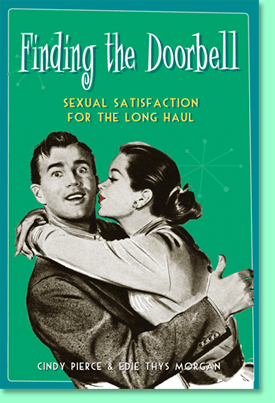 Better sex for the people!
Sex can feel passionate, tender or transporting. Sex can also feel stressful, divisive or even obligatory. Fortunately sex also has an accessible lighter side. Finding the Doorbell combines expert advice with an unvarnished, under-the-covers look at other peoples' intimate experiences. These stories and insights will resonate with anyone who wants to make sex a priority without letting it dominate his or her identity, time or brain space. This book delivers the peeled baby carrots version of how to have sustainable sex in a long-term relationship. It's easy to grasp, easy to enjoy, and offers healthy benefits.
Whether your sex life is "just fine", needs some freshening up or is in a drought phase, Finding the Doorbell welcomes you to good company with an enlightening range of perspectives. False assumptions that skew our expectations are revealed such as: great sex has to be outrageous; and everyone else is having more sex than you. Scientific evidence and anecdotes from the trenches demystify things like the much-lamented imbalance of sex drive between men and women, and the truly elusive nature of the clitoris. Finding the Doorbell uses honesty and humor to defuse a loaded topic while inspiring couples to make sex a vital and enjoyable part of their lives together.