A Letter From a Fan
by Vicki Hoefle — Creator of the Parenting On Track™ Program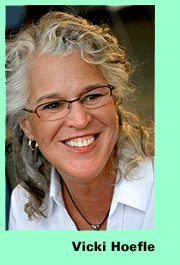 Clitoris! Female ejaculation! G-spot! Female prostate!
If you don't like to talk about anything sexual, sensual, pleasurable, honest, hard-hitting, sensitive, or eye-opening go read a blog on how to make rice krispy treats.
If, on the other hand you are open, honest, real, human, and want aglimpse into my thinking on the whole subject of Doorbells, Parenthood and Relationships, keep reading.
So I attended my friend Cindy Pierce's monthly dinner and a show. Cindy is an Inn-Keeper. But more than that, she is the co-author of Finding the Doorbell.
I think her calling in life though is as a one-woman stand up comic on the subject of — well, finding the doorbell.
I have heard Cindy on several occasions and I am always reduced to tears. Her show hits both a comedic nerve with me, but more importantly, she hits a nerve that goes deep into my roots and shakes the good catholic girl to her core. I am also completely and utterly blown over by her physical comedy. If you EVER get the chance to see this gal, do it. Personally, I am in awe of her. Her honesty and candid discussion of sexuality, sensuality and relationships is, as Zoe would say "the best EVER."
I used to consider myself fairly open minded when it came to sexuality. I really believed I had given my kids great information on the whole topic. I talked to them when they were young and I talked with them often.
But when I heard Cindy talk, I realized that although I had given my kids the "nuts and bolts" talk, I hadn't really discussed sensuality, pleasure or relationships (beyond the "save yourself for true love which won't come along until you are well into your 30's and probably not until you hit 50 but if you can wait until you are into your 20's, well that would be great").
But Cindy's spin took my legs out from under me. I realized I had never even mentioned the sensuality, pleasure, communicate honesty, know thyself, keep it steamy, how to talk to the other conversation with MYSELF, let alone my kids.
Do you know how hard it is to retrace your steps with kids who think they know EVERYTHING about sex cause their parents have been discussing it for years. Crap. Talk about behind in training. Now I have to look for quiet, subtle, not to intense moments to chat with my girls about the whole idea of them being active participants in the whole sex thing. The boys, well the boys are way more open. After all, as Cindy well knows, the boys are looking for good information. Just read what she has to say on the subject. It is clear that we don't give young men enough credit for really caring about the subject and wanting to do right by the women they are involved with.
And then there is the whole porn thing and how whacked the industry is and what it is doing to an entire generation of young men and women. Folks, we gotta get on this. We gotta educate our kids. We gotta pull our heads out and get real or things are going to be really messed up in a few generations. Man, what an eye-opener for me — and I worked in Vegas. I KNOW this stuff and still I was tip-toeing around it like the topic was as dangerous as a pit full of vipers. Stupid of me and completely irresponsible.
And again, I have to retrace my steps, bring up difficult conversations with my kids who are less than completely thrilled to be talking to their mother about the industry and all its implications. Education is power. Remember that all you prudes out there. Education is power. The End.
The central theme of Cindy's show for me is this — three words:
RELATIONSHIPS. COMMUNICATION. CONNECTION.
Because you can somehow listen to Cindy talk about body parts, positions. GPS systems, directions, and outcomes, you begin to think that you are immune to anything else shocking. Until of course, she hits her main theme — Relationships. Communication. Connection.
It's here that I feel my belly lurch and my heart seize up. It's as if suddenly you find yourself in a fast moving elevator headed to the basement, where all the beliefs, fears, judgments and shame live that hold you prisoner. You can't stop it. She has you. You trust her in a way you have never trusted anyone concerning this subject. Your defenses disappear. You hit the basement and the doors open.
And there to meet you are a series of scenarios, experiences, conversations that educate you on how you developed such a wacky way of looking at something so pivotal to living a satisfying and joyful life. Holy Crap. It's all there. It's her gift to anyone willing to take the ride.
It's funny, but even in a room full of people, you feel safe looking at all your "stuff." Cindy is still talking, sharing, making herself vulnerable. Pointing the way to honesty, courage, humor, insight. It's as if she is shining a light for you. A thought you once believed shameful, is now seen with the eyes of compassion. An experience you found humiliating suddenly evaporates in youthful ignorance. You feel yourself being cleansed from all the cultural crap that surrounds this otherwise mystical and miraculous and joyful part of life. Sex.
I only hesitate a moment before I started to follow the light and I cleaned up more shit in two weeks than years of contemplating the subject had ever provided me. I started to explore the topic from Cindy's perspective and I have to be honest, I had a whole lot of fun doing it. WOW! Who knew it could be so fun.
So why am I writing all this — because it's important. Because with all the information out in the world on the subject, Cindy's gift for informing with humor, sensitivity, honesty and courage, is important. It has become a mission with me. To get the word out. To introduce everyone I know — especially those with kids — to Cindy's message. It is the clearest message I have ever heard about the intricate subject of sex, sexuality, sensuality, pleasure, communication, respect, relationships and connection.
Please, take a minute. Put your fears away long enough to at least listen to Cindy's message with an open mind and an open heart. I know she isn't for everyone. But I believe there would be less date rape, less molestation, less isolation, less porn, less shame if more people knew about Cindy and her message.
Let the comments begin. Me, I'm off to snuggle with my husband. Feeling the love.
Vicki Hoefle
Director and Program Creator
Parenting On Track
(888) 660-7668
www.parentingontrack.com
facebook.com/parentingontrack
twitter.com/parentontrack