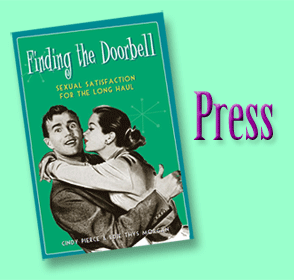 One-woman show hits Dos Gringos
By Stina Sieg

CARBONDALE — "This is what it takes to please me."
When it comes to sex, we would all be better off if we could simply say that.
That's how Cindy Pierce feels about it. On paper, the 42-year-old innkeeper, wife and mother of three seems an unlikely advocate of zesty, lifelong sex.
Perhaps that's what makes her message so powerful.
For the last four years, Pierce has been the voice of "Finding the Doorbell," a one-woman show, drop-dead honest about all matters sexual. This year, she and co-author Edie Thys Morgan put out a book of the same name. In both, she's using her own embarrassments, insights and surprises to shed light on subjects that scare most people quiet.
"If you can't use your words, you better move their hands and put it where you want it," she laughed, during a recent phone interview.
Yes, she was talking about sex, and yes, she was talking about orgasms. But there was no sensationalism to her voice. She was just being herself.
"I need to express everything," she said. "I just have to vent it to process it."
If that means talking about periods and birth control, libidos and hair removal, so be it. If it means traveling to colleges and theaters throughout the country, even better. Regardless of where she is, she said, her work matters. That's because, she sees the same problems everywhere. In sex, men want direction but are afraid to look incompetent. Women would love to direct but don't want men to feel bad.
And in the middle of all this, Pierce is directing traffic.
"They're just so grateful that I'm up there, saying this, speaking for them," she said, of her audience. "This is a need."
Though she never planned it this way, it's a need she's happy to fill. An expressive, fast talker, she touched on the "incident-ridden" life that brought her to this point.
The youngest of seven children, she grew up watching the comings and goings of her family's inn in Etna, N.H. Even as a youngster, she was attuned to the human drama around her, with all the siblings and guests. She actually started taking notes, she said, not knowing where they would lead her. As an adult, she was a ski racer, a theater major, a school teacher and, finally, an innkeeper. She was also a natural performer, who just happened to be off the stage.
Until a few years ago, that is. She was hanging out with a group of old skiing buddies then, women a shade older then she. They got to talking, and she got to sharing, and her humor and candor blew them away. Though she had no free time to speak of, the group pushed her into performing. What started as small show at her inn (which she now runs) soon moved to a sold-out gig at the nearby Lebanon Opera House. That was 2005, and in years since, she's performed about 20 more times.
While her work might sound like a bit of tough sell to some, she insisted that it's more universal than people might think. After all, who doesn't have issues surrounding sex?
"In this culture, this American culture, I can go anywhere and people will get it," she said.
On Thursday, "anywhere" is here. In addition to presenting her show at Carbondale's Dos Gringos Burritos, Pierce will introduce her book with Morgan. While her performance is geared toward anyone adult enough to watch, she said, she also has a very special message for couples.
As she put it, "sustainable sex" is possible — even after 16 years of marriage.
"I know it's good for my soul. I know it's good for my body. I know it's good for my relationship," she said, once again using words that others never would.
Contact Stina Sieg: ssieg@postindependent.com.
Post Independent — March 10, 2008