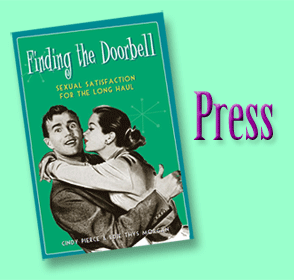 Sex and the Cindy
By Morgan Peele
Her Campus
When it comes to sex, Cindy Pierce rarely stays within the lines.
By attending her one-woman show at UCF on March 1st, you will see why.
The comedian will be performing Tuesday night at 7 PM in the Harris Corp. Engineering Center at UCF.
This will be your chance to get advice, hear stories that you can relate to but never have the guts to say, and feel comfortable discussing a topic that intimidates many.
Pierce is being brought to campus by the Offices of Fraternity and Sorority Life to promote safe sex. When she is not tending to her family-owned inn in New Hampshire, Pierce travels to more than 20 colleges, including Purdue and Dartmouth, to express her beliefs and nonconformities on sexual ideals.
When it comes to sex, there are no questions or topics Cindy Pierce will not cover. Pierce searches for the humor in sexual education rather than shame.
"Because I learned to find humor rather than shame in the female bodily experiences and sex...[I am] able to bring humor to even the most embarrassing situations," she said.
Sex inhibitions are never a dilemma for this comedian and co-author of "Finding the Doorbell." Pierce is well known for her blunt honesty and unfiltered comical humor to address intimidating sexual topics.
Her friends encouraged her to tell her funny, personal stories on stage, which jump-started her great show. After talks with some sorority sisters at Dartmouth College, Pierce spoke to her first scheduled audience in 2004; leading the way to her sex comic career.
"...That sealed the deal that men and women, old and young, are not as informed as they would like to be," Pierce said. "The qualitative research has been going on forever, and the formal research started in 2004."
Scanning through her pictures on her website, one can tell that Pierce rarely holds a serious poise. In fact, the majority of her pictures are amusing poses or embellished faces you would find on a frat stars Facebook page.
This brings curiosity as to why such a lighthearted comedian would specialize in a topic that today's society views as such a serious matter.
Nonetheless, she is not intimidated by it.
College students are granted the gift of learning from Pierce's sexual mistakes that she has personally made. Leaving her with the embarrassment to deal with and you with pure comical entertainment.
Pierce grew up the youngest of seven children, with her siblings beginning to marry when she was only age five. Hearing about such mature experiences at such a young age subjected her to a quick understanding and maturation about commitment and sex.
Pierce explained, "Early in the game, I learned that long term commitment was no picnic and required honesty, humor, and communication."
Hanging around boys, older siblings, and in laws, gave Pierce curiosity, which led to knowledge that threw her into the world of sex. She has no regrets about this as she began to teach her own children about sex at a young age. Pierce believes the topic of sex should be desensitized so that it is easier and more comfortable to talk about.
"Personally, I am a believer in teaching kids about sex in first grade before the Internet steers them wrong," Pierce said.
In her discussions, Pierce broaches the topic of porn and how the porn companies give a false idea of women and sex. This sets our generation up for high expectations and false ideas. This leads us to be intimidated on the topic of sex.
"The average age a kid looks at porn is 11.5" Pierce mentioned.
The demystify factor that Pierce speaks about in her book is the heavy influence porn puts on our culture and the unrealistic expectations porn portrays. She intends to go into greater detail during her performance next week.
When asked about her appearance at UCF this week, Pierce prepares us for the honesty and bluntness that will occur. She hopes to bring the UCF college community health and wellness when it comes to sex. Pierce expects for our college community to be ready for the "straight talk."
"I lean towards the male/female dynamic because one of the biggest issues on campuses is the drunken hook-up scene that can become an unreported sexual assault very quickly," Pierce explained.
Pierce strives to help young adults feel comfortable with their bodies and lack of experience by relating to the issues young college students struggle with daily. By informing her audiences, she hopes to improve the relationships by setting higher standards for sexual expectations.
"Young men listen to me because I don't scold and call them out. I want young people to benefit from a real sex education the way I did."
By attending her graphic and direct show on Tuesday evening, UCF students will gain a new insight and perspective into the world of healthy sex. Whether you are female or male, students can be prepared to laugh and learn all in one session. Pierce's personal friends like to call her performances 'Public Service Announcements' as they believe it's a gift to anyone who gets to hear it.
A writer for The Randolph Herold said, "Pierce may have been late to enter womanhood... but she made up for lost time by parlaying her insights into an uncanny ability to distill any situation to its funniest common denominator then spin it into a positive message that appeals to men and women, young and old."
Students should look forward to this one time opportunity to learn and grow in the natural sexual world as sexual beings. This will be the chance to ask questions and hear stories without feeling embarrassed or judged.
Finally, Pierce mentions, "Anyone who takes life and his or herself so seriously will probably not be interested in my program or bringing more humor into their world of sex."
Her Campus — February 28, 2011