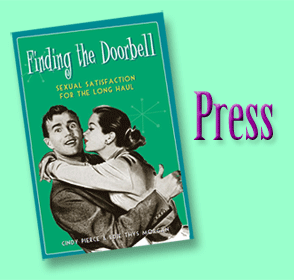 Starting the Discussion
By Keshav Poddar
The Dartmouth

This past Monday, a friend of mine asked if I would like to accompany her to a "comedy" show in Collis Common Ground. Always down to be entertained, I readily agreed to come. Another male friend of mine joined us, but as we were sitting down I noticed something strange. I turned to my friend and somewhat anxiously remarked, "Dude, look around, there are only like 15 guys in here." Indeed, it was at this point that the succubus who tricked us guys into attending handed me a piece of paper indicating that this event was part of the infamous V-Week. I consider myself sympathetic to issues of women's rights, but at that moment I had no desire to bear witness to some sort of female empowerment rally. A chill ran down my spine as I began to contemplate the baptism-by-feminist that was certain to ensue.
In fact, Cindy Pierce, a local mother and teacher, delivered perhaps the most hilarious, informative and resonant performance I have seen since coming to Dartmouth. Her approach of addressing gender dynamics was neither self-conscious nor combative and she fully engaged everyone in the audience, both male and female. In narrating her journey to sexual maturity, Pierce refrained from laying blame for issues of gender relations at the feet of men or women. Instead, she stressed that the inculcation of poor sexual values in youth and our unwillingness to openly discuss issues of sex are the result of an incomplete dialogue between the genders.
The inclusive tone of the night stood in marked contrast to the contentiousness of past discussions of gender relations on campus. For the men in the room, Pierce's comic notion of "asshole tickets" undoubtedly sparked far greater self-awareness than the anonymous song blitzed out to campus this fall proclaiming that "Dartmouth frat bros will steal your soul." Her graphic accounts of experiencing the female orgasm certainly inspired a few cringes, but these stories also appeared to strike a far greater chord with the women in the room than the controversial Orchid Project campaign to send "vagina mirrors" to every woman on campus. Seeing the overwhelmingly positive reactions of both men and women to Pierce's comedy allowed us to forget the divisive rhetoric that has plagued this campus, if only for a couple of hours.
There is no better evidence for the efficacy of this event than the transformation of my male friend's attitudes. Upon finding that the next hour of his life would be primarily dedicated to learning about masturbation and female genitalia, he promptly hung his head and attempted to coerce me into leaving. Nevertheless, he stayed and became more engaged and less uncomfortable as the night went on. He was even inclined to stay after for a bit of the optional question and answer session. This past week, he has been quoting Pierce's lines far more than any of the girls who saw the show with us. The power of humor has led him to be far more open to frank discussions about sexuality.
It is unfortunate that there were relatively few men watching the show that night. Had more males attended, I'm certain that Pierce would have influenced their perspectives on feminism and gender dynamics on campus. Pierce noted that one of her first talks at Dartmouth took place at Gamma Delta Chi fraternity, and that her presence was well received by the fraternity brothers. I must admit that, had I known that this event was part of V-Week, I would have been much more reluctant to attend.
This attitude is, regrettably, shared by much of the male population on campus. We bear a measure of culpability for dismissing V-Time conversations out of hand. However, our hesitancy is also the product of our polarized debate on gender — even the passing mention of an event relating to gender dynamics evokes a negative connotation in our minds. It is therefore unsurprising that the size of the male presence at the comedy show, and at V-Week events in general, is modest. It will take more discussions akin to the one I saw last week for the men and women of this campus to have the dialogue they deserve.
Copyright © The Dartmouth
The Dartmouth — February 28, 2011